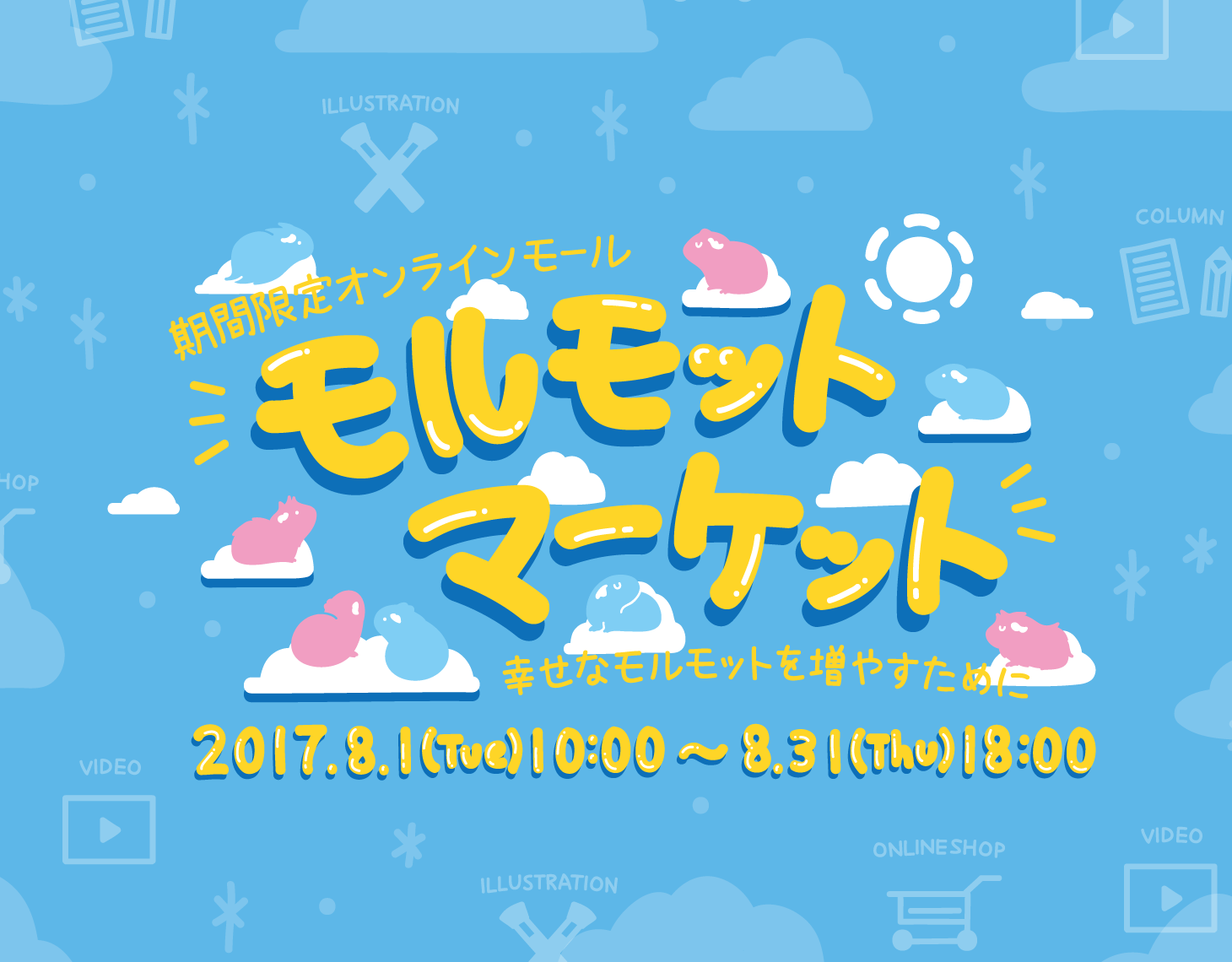 CATEGORY
CREATORS
Policy and Disclaimer
(Please read before you place your order!)
■配送について>>
ご購入確定から1-3日ほどでヤマト運輸もしくは日本郵便にてお送りいたします。日時指定は承っておらず、最短での発送とさせていただきます。

送料全国一律500円
※モルモットマーケット数量限定ポストカードセットのみご注文の場合は送料140円
■キャンセル・返品・交換について>>
商品に不良があった場合やご注文された商品と異なる商品が配送された場合のみお受けいたしますので、商品到着後7日以内に下記までご連絡ください。
morumarket@gmail.com

■お支払い方法について>>
クレジットカード決済、コンビニ決済、Pay-easy、銀行振込からお選びいただけます。
ご注文後のお支払いのご変更は、申し訳ありませんがシステムの都合により承れません。
■掲載商品について>>
撮影場所や光の状態、ディスプレイ画面上の発色などにより、実際の形や色とは異って見える場合がありますことご了承ください。
■お問い合わせ>>
morumarket@gmail.com
※ご返信までにお日にちをいただく場合があります。
---
■Shipping>>
Delivery Cost: 1000 JPN per order*
*If your order is only for Post Card Collection, delivery cost is 260JPN

We dispatch all orders within 1 - 3 business days via Yamato or Japan Post.

Unfortunately you cannot request delivery date/time, nor guarantee shipping times in case of overseas delivery.

CUSTOMS & IMPORT CHARGES FOR NON-JP CUSTOMERS
NON-JP CUSTOMERS are responsible for any and all customs charges, taxes (VAT), and any additional postal fees once the parcel reaches its destination country.

Unfortunately, we have no control over these charges, and cannot tell you what the cost would be, as customs policies and import duties vary widely from country to country.

Please contact your local customs office for current charges before you order if you have questions, so you are not surprised by charges you were not expecting.
■Cancellations, returns, and exchanges>>
Any items found to be faulty or incorrect and notified to us within 7 days of delivery can be returned to us for a full refund.
Please give us message to morumarket@gmail.com with details of your order.
We will get in touch with you for further instruction.
Please give us 2-3 days for reply.
We cannot accept cancellations, but please contact us if you have any problems with your order, so that we can try to resolve the issue for you.
■Payment Methods>>
Credit card payment is available.
In case you wish to pay via PayPal, please contact morumarket@gmail.com for further instruction.
※ You can change language and currency from pull-down menu at the bottom of the website.
■Disclaimers>>
Please read descriptions carefully and ask any questions you may have before you place the order.
Please also note that, although every effort is made to photograph items accurately by each creators, we cannot guarantee every computer monitor will accurately depict the actual color/shape of the merchandise.
■Contact us>>
morumarket@gmail.com